Australian recycled plastics innovators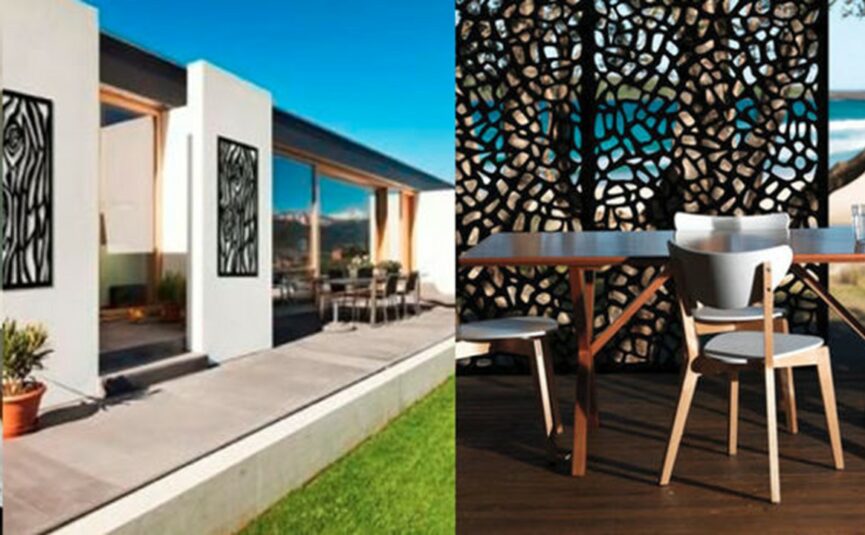 Services provided
Recycled plastic use across Matrix™ products
Australian recycled plastics innovators
Australian designers and manufacturers Design Flow are committed to using recycled materials. Design Flow are constantly innovating in the sustainable manufacturing space creating an expansive range of moulded products from recycled plastic for the home improvement retail, building and primary production sectors.
Using Australian-sourced recycled materials is at the core of Design Flow's business success. Read more about using recycled materials and how keeping supply local is key to addressing challenges.
A bit about Design Flow
Design Flow is an innovative company, designing and manufacturing moulded products from recycled plastic. Their most commercially known product line sits under their retail brand, Matrix™. Matrix™ products include decorative screening, plastic lattice, wall art, and fence extensions. 
When talking about the use recycled plastic raw materials in the manufacture of their products, Design Flow's, Mark Found said, 
"We have been committed to using recycled material since Day 1, that's a core part of our business." 
"Our priority is Australian-sourced recycled material, while it's not always possible given the significantly increasing demand for our products, we always make a point of using local recycled inputs ahead of anything else" 
"We supply a large portion of the Australian hardware market with screens with 100% recycled material, and when we make a claim, like we do, that our products are made from 100% recycled material, you have to provide rigorous evidence in some cases when advertising. So, this isn't just something we say, it's very important to us and we can prove that we stand by our claims, and Corex Recycling is part of helping us deliver on that"
Challenges with using recycled material
Manufacturing and thermo-forming with recycled material presents even more challenges than using virgin materials. Design Flow has been learning ever since starting the business in 2001.
Corex Recycling has been a key partner in helping Design Flow address and manage these challenges whilst establishing high manufacturing and quality standards and maintaining them.
Some examples of creating new standards and benchmarks:
Consistent recycled product inputs: Evidence of Corex's long-standing commitment to helping Design Flow grow their business was the early investment in blending capability. Through trial and error, Design Flow discovered that blending technology ensured consistency through the batches of material.  With thermo-moulding, that consistency is of paramount importance to achieving a high-quality end product.  The consistency and reliability of the recycled inputs was key, so Corex Recycling came to the table and invested in a solution that could guarantee the output Design Flow and their large customers required.
Not all other recycled products have the required blending capability
Recycled inputs that contain unwanted 'fillers': Some of the source material for recycled material comes from products that contain fillers, used to give the original products rigidity. However, if these are not removed from the recycled product, they are very disruptive to the thermo-moulding process.
Partners in innovation
Corex Recycling have been partners with Design Flow since their early days providing products for the Australian hardware market. Design Flow's Mark Found explains:
"Seven years ago, when we first teed up to supply the Australian hardware market, we were still learning what we wanted out of recycled material. It was really difficult in the early stages, but Corex Recycling was the fresh air that came into the business.  They understood that we were innovative, and they were committed to helping grow the business.  They came on and were listening, and from the early days of us being one of their first large Corex Recycling customers, we have grown the recycled product opportunity together."
"Corex has been able to deliver a batch that doesn't alter, so the consistency was pretty good. They committed to buying the blending system and since then have been blending material that is fantastic."
Design Flow's Matrix Décor Screens have been so popular that they are developing new products to meet the demand for recycled options to expand their range into other new landscaping and outdoor materials.
Why Design Flow need to rely on their recycled material inputs
Design Flow's Mark Found said, "Sometimes things can go wrong supplying recycled material, we've learnt the hard way.  We needed to make sure we avoiding creating a problem for the moulder.  We're always trying to do the right thing by the moulder but if you have problems with the material, it will just blow up in our faces.  We know what it's like to be caught in the middle."
"If the moulder ends up moulding a whole lot of rejects, it's costing us a fortune. To have a good supplier of material, means life is a lot simpler."
Having a local supplier is important in more ways than one
Design Flow prefers buying material from Corex Recycling, not only because they are just down the road and quick and easy to deal with, but also because of the growing demand for locally sourced product.
Brand and product benefits of 'Australian-made'
Australian made is growing in importance, and the fact that Design Flow can source the primary material (recycled pellets) from a local recycling business is icing on the cake. Mark Found explains further:
 "Australian-made, it's becoming more relevant, more important, more interesting to our customers, it's carrying a bit more weight.  Our biggest customers are keen now to know it's locally made. To be able to say 'Australian-made recycled material is even more interesting".
 "We've had other customers on the phone, ringing in about different products and asking, 'saw it was Australian made'."
Company relationship benefits of a local manufacturer
"Corex Recycling are responsive.  They are no time delays, they'll hop in the car at the drop of a hat and have been really attentive, always ring me back straight away.  They try and meet our requirements as best they can.  They really haven't let us down – whatever they said they'll do, they've done.  That builds confidence.  It's a mutual relationship, it's got that trust"
"It's really helped that Corex Recycling is a local manufacturer. Currently, importers are having trouble sourcing and there are strikes at the wharf. Ships can't sit idle. Working with them guarantees our supply."
What's next for Design Flow?
Partnering with like-minded designers and produces creates the very best outcomes for Corex and our customers. The team at Corex can't wait to be part of the next chapter of innovation with Design Flow. Mark Found, Design Flow talks about what's next:
 "We've got some really exciting opportunities coming up with new tooling for products in the garden areas. We're hoping to continue work in partnership with Corex Recycling, with their support we will to grow the business".
Sign up for industry innovations, special offers and useful information.
"(Required)" indicates required fields
Sign up to download this document
Subscribe to our mailing list to unlock exclusive content on our site