Corex and the Circular Economy
At Corex, we believe polymers can be of great benefit to our society, when managed responsibly. Their unique properties and recyclability allow for infinite function with excellent endurance. When applied in a circular economy model, the use of polymer reduces strain on natural resources and creates greater supply chain efficiency. Corex are thought and industry leaders in facilitating the truly sustainable existence of plastic in our world.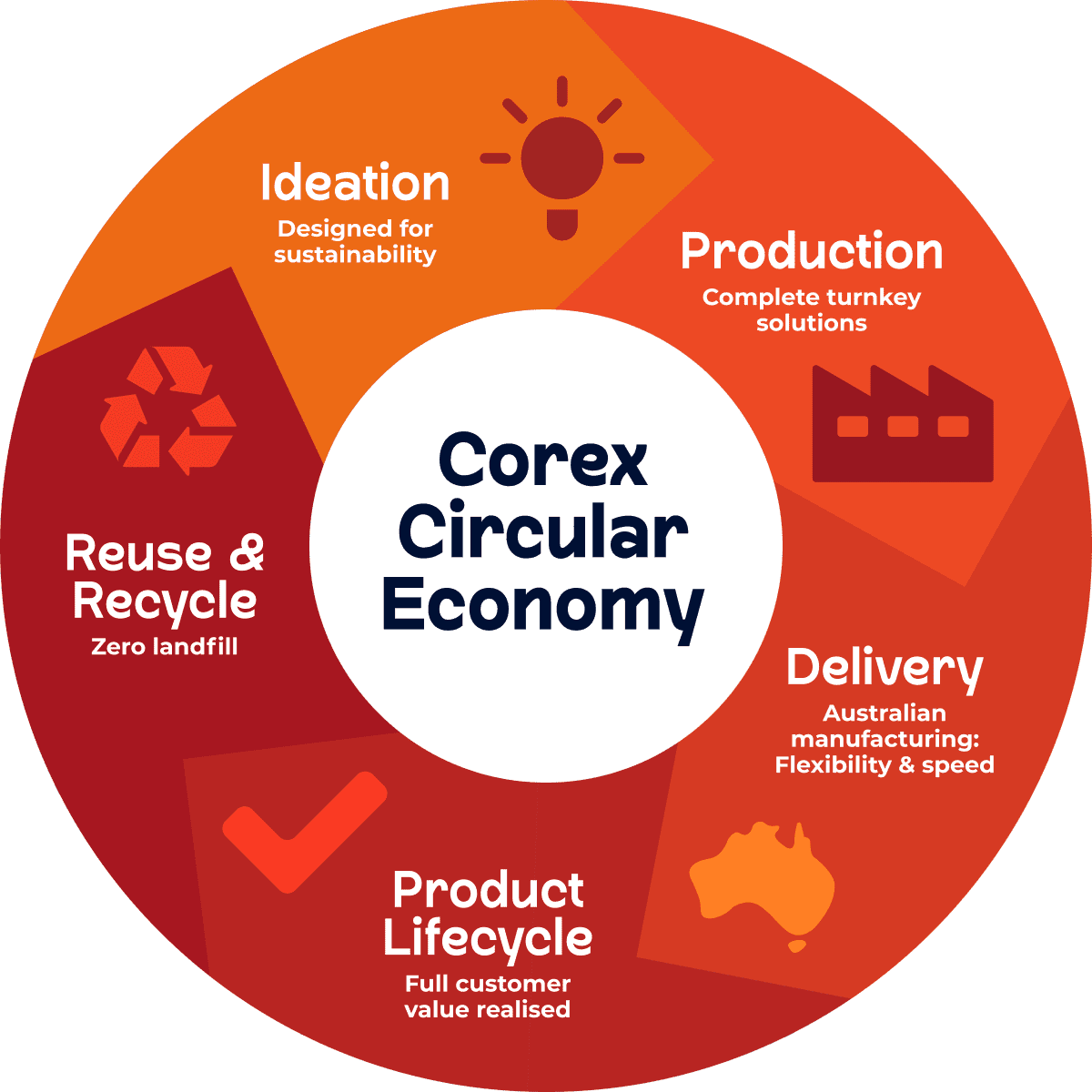 Sustainability FAQs
Everything we make is invited to be brought back for recycling and reuse in products for tomorrow. Corex Recycling works alongside the factory that produces Corflute® and PROMEG®.
What happens to the plastic that's brought back to Corex Recycling?

We process and recycle every kilogram of plastic we receive on site. All of the processed material returned to us have a use within Corex Plastics. In the rare occasion that Corex Plastics do not have a use to suit the recycled polymer, we will only then sell to local plastic manufactures that make products that could be sent back to us for recycling.

Read more

.

Do you supply compliance certificates for the Corflute I return for recycling?

Become a Corflute® Recycling Program Partner and receive certifications and partner accreditation assets for the products you return.

If you are a printer or distributor of Corflute® or PROMEG® polypropylene you are invited to become part of our closed-loop program. This program is open to Corex, Megara and distributors that share our circular economy vision.

Does Polypropylene (PP) or Polyethylene (PE) have the least environmental impact?

Comparing the raw material footprint and environmental impact of PP and PE can be complex and depends on various factors, including the production processes, energy consumption, transportation, and end-of-life management. Life cycle assessments (LCAs) can provide a more detailed analysis of the environmental impact of specific materials or products.

Should I choose Polypropylene (PP) or Polyethylene (PE) to make my product from?

Both PP and PE are manufactured and recycled by Corex. Everything Corex makes is invited to be brought back for recycling and reuse in products for tomorrow. So when it comes to which one should I choose from an environmental viewpoint, choose the one that has the most suitable functionality for your product and its purpose. The choice between PP and PE may depend on the specific requirements of the product application. For example, if stiffness and fatigue and hinge properties are critical factors, PP would be more suitable choice. In general, PP have better hinge properties compared to PE. PP has a higher stiffness and maintains its shape and integrity better when used in hinge applications like packaging boxes. It offers good flexibility and resistance to fatigue, allowing it to withstand repeated bending and flexing without breaking or losing its functionality. On the other hand, while polyethylene also exhibits some degree of flexibility, it tends to be more susceptible to fatigue failure in hinge applications.

Which plastic is easier to recycle: Polypropylene (PP) or Polyethylene (PE)?

Both polypropylene and polyethylene can be recycled, but the ease of recycling may vary depending on the specific formulation and availability of recycling facilities. Polyethylene, especially HDPE, is commonly recycled and has a well-established recycling infrastructure in many areas. However, advancements in recycling technologies have also made polypropylene recycling more feasible in recent decades.

Can Corflute® be recycled?

Corflute® is is made from Polypropylene which is 100% recyclable.

Can I recycle HDPE?

Yes! All of the PE variants are recyclable making them a very good choice for companies seeking sustainable solutions for the end of life of their materials. We take back HDPE, LDPE and  other thermoforming off-cuts. Read more about

Corex Recycling.

Is Corflute® made from Polypropylene (PP) or Polyethylene (PE)?

Corex has been extruding Corflute® for more than 30 years.

Traditionally polypropylene was the most suited polymer for use in Corflute® due to its printability credentials.

Extruded polypropylene can achieve a smoother surface. When printed, the ink keys extremely well to the sheet, unlike polyethylene which has a rougher, 'oilier' feel to it.

Polypropylene can also be extruded faster than polyethylene, therefore requiring less energy to produce.

Polyethylene was initially used in some Corflute® products for horticultural applications (like tree guards) because it has better UV resistance. However, many advances have been made to additives in polypropylene which has enabled its UV resistance to now be excellent.

Corex manufactures both solid HDPE and PP, and both are recyclable at our closed-loop facility. We choose which material to use based on product and application. Both have their unique benefits.

Read more about Corflute®.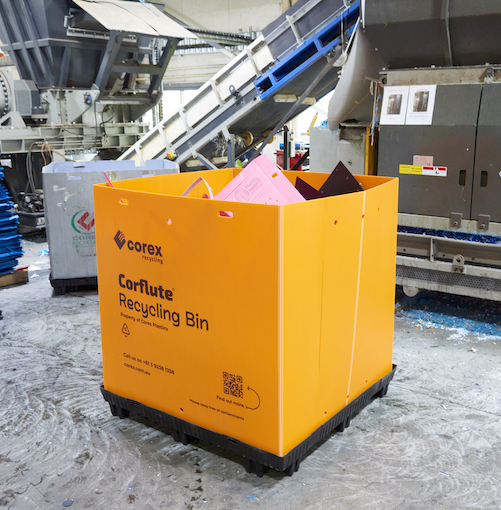 Recycling
Our Corflute recycling program
Trusted by the world's leading companies
Sign up for industry innovations, special offers and useful information.
"(Required)" indicates required fields
Sign up to download this document
Subscribe to our mailing list to unlock exclusive content on our site