Corflute Polypropylene Plastic Christmas Trends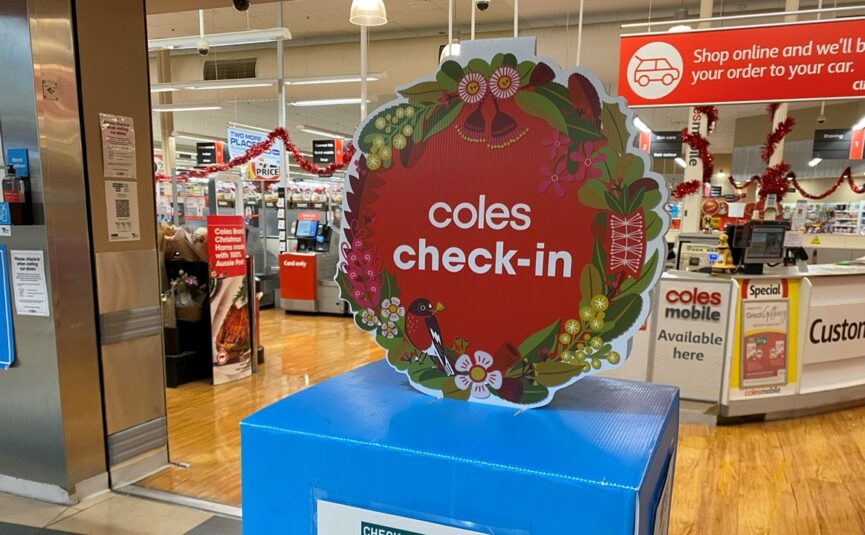 During the Christmas retail marketing period each year, we see an increased amount of advertising, and more reasons to use promotional signage.
Brands and retailers seek materials (substrates) for these promotions that combine economy of scale, durability, and excellent printability – a solution that presents the Christmas promotion with impact and commands attention.
Add sustainability and locally produced credentials into the mix, and although finding the balance can be challenging, it's not impossible.
Solutions like reusable, recyclable, and Australian made Corflute® are being used more and more for promotional signage and retail marketing applications.
* 20 December 2022 edit: This article was put together by Corex Marketing Manager, Zita Watkin during Christmas 2021. Although the content is 12 months old, its purpose to educate about sustainable materials for retail marketing promotions remains the same in 2022.
What is Corflute®?
Before we look at where Corflute® is being used this festive season, let's touch on exactly what Corflute is, and why it's a good alternative to other materials for seasonal marketing applications.
Corflute applications in retail marketing
Corflute is a fluted plastic polypropylene sheet. It is strong, tear-resistant, water-proof and a great choice for brand promotions using digitally printing. It is often used for flat signage and die-cut (shape cut) and folded retail display stands.
Corflute is very adaptable and is suitable for both outdoor and high traffic indoor retail environments.
Corflute polypropylene (PP) versus polyvinyl chloride (PVC)
Corflute is made from polypropylene plastic and although it is categorised as a plastic material alongside PVC, the two materials are made from vastly different chemicals that set them apart in many ways. Both plastics are used widely across retail marketing signage and display materials, but they have significantly different environmental credentials.
Polypropylene is one of the most environmentally friendly plastics. It contains only two elements, carbon and hydrogen. Polypropylene is also 100% recyclable.
For retail marketing applications, Corflute can be used in similar ways to corrugated cardboard, but unlike cardboard, Corflute is water-resistant, so it doesn't require lamination to be used outside or for area's instore that may be water effected like fridges and floor spaces that need to be mopped around etc. Using just one material like Corflute as opposed to cardboard with a laminate, enables easy recyclability.
PVC is more environmentally toxic than polypropylene. PVC includes chorine, and often made with plasticisers.
Disadvantages of PVC compared with PP
In the chemical structure of PVC there is Chlorine which it is a dangerous substance for the environment. If PVC catches fire (due to incinerating process) it will release toxic substances like chlorocarbons and hydrochloric acid which are harmful and dangerous.
PP has more heat stability than the PVC. PVC can easily decompose during extrusion process and release some toxic gases that are harmful for the extruder operators and workers.
In the formulation of some PVC products, there are some heavy metal stabilisers and plasticisers that they have bad effects on the environment.
In landfill, PVC can leach out into the environment (soil and water) and make soil and marine pollution.
Chemical resistance of PP is better than PVC.
Benefits of using Corflute® in retail marketing activations
Top-line take-aways
Premium and robust for the busy retail environment
Digital or screen printable
Waterproof – Will not be affected by mopping and product spills like carboard
UV stabilised – Perfect for exterior of stores, P&C stores etc.
Lightweight (5 times as light as foam PVC equivalent) and energy efficient
100% recyclable at end of life
Post-industrial waste can be returned for reprocessing at in-house closed-loop facility, Corex Recycling
Ability to be used as a permanent solution with updatable graphics
Australian made
D4S – Designed for sustainability using just one material, with no additional fixtures and minimum sheet yield
Examples of retail and shopper marketing activations this season using Corflute
Over the last few weeks, I hit the stores, malls, and high streets to see where Corflute was being used in the lead up to Christmas.
Covid check-in free standing signage
Australian department store Target uses triangular, tabbed freestanding signage for assistance with customer direction and store check-in communications. These durable, yet lightweight three-dimensional signs are perfectly suited for the new Covid-normal / bustling Christmas shopping crowd.
Target also use some fixture signage (Calendar fixture) made using Corflute.
Kmart also use Corflute for their Covid check-in totems in the leadup to store entrances.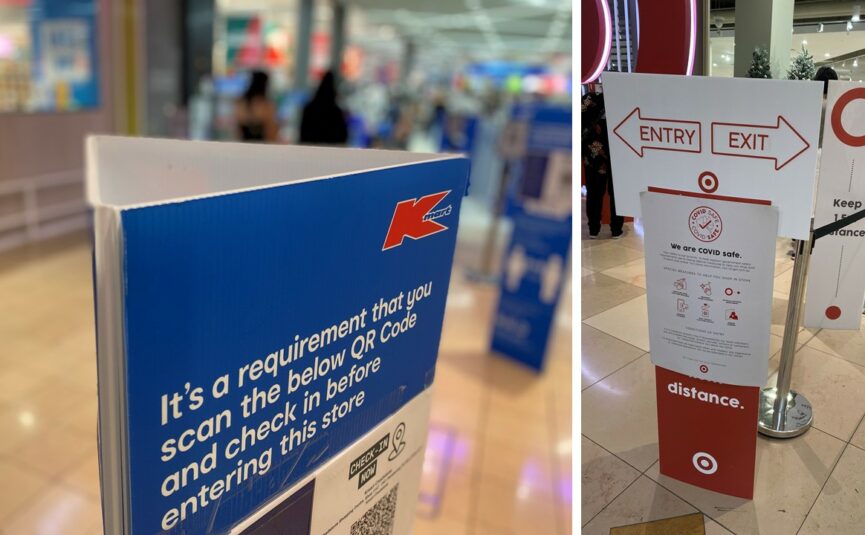 Dan Murphy's Christmas. Seasonal gondola headers, free-standing marketing beacons and Covid check-in signage
Liquor supermarket Dan Murphy's uses Corflute for seasonal marketing solutions like gondola signage, and tri-sided free-standing displays.
The gondola headers are digitally printed with the Dan Murphy's overarching The Holiday Handled campaign. The headers also have provisions for secondary signage like pricing and localised promotions.
Dan Murphy's also use four sided Covid check-in totems both inside and outside of stores.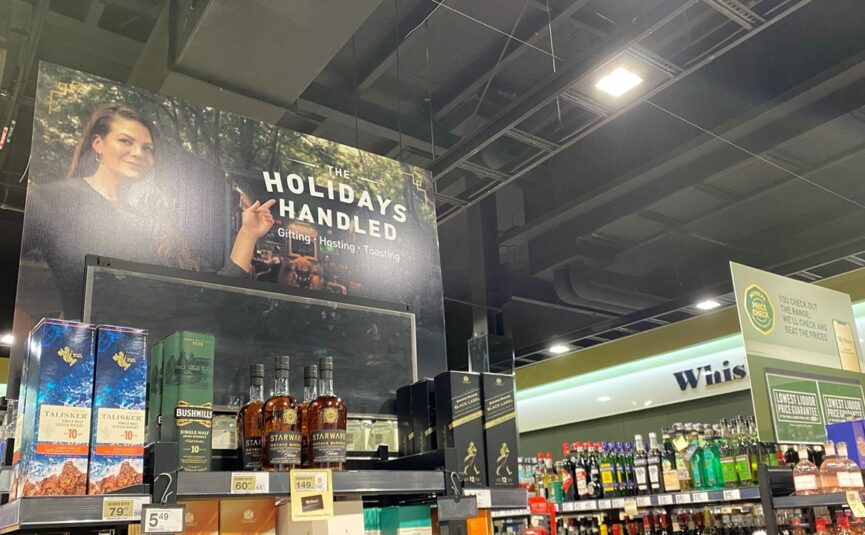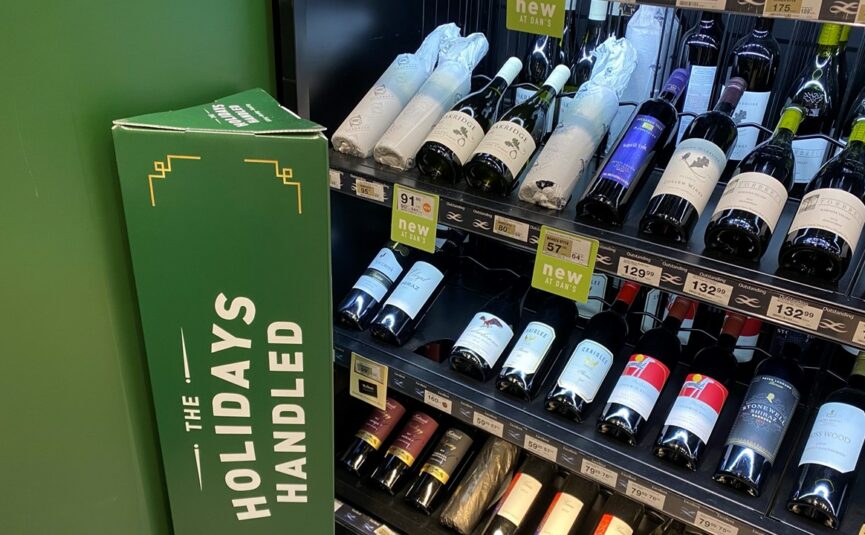 Coles Hybrid Covid and Christmas signage
Coles Supermarkets uses Corflute in a broad range of store signage and displays including their 'Down Down' aisle fins.
For Christmas, they have reinvented their Corflute check-in totems to incorporate shape cut wreath toppers. They have also created entrance totems that are cleverly designed to sit around the steel security rails with inspirational Christmas meal purchasing suggestions.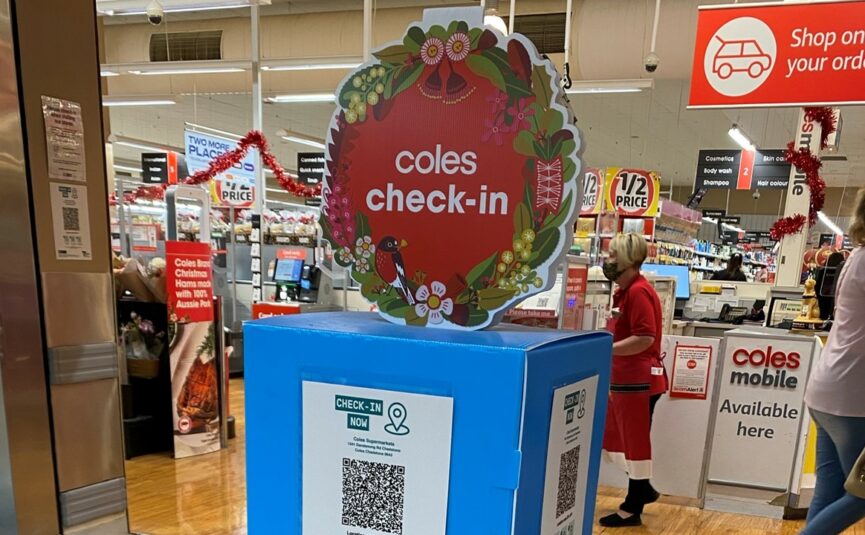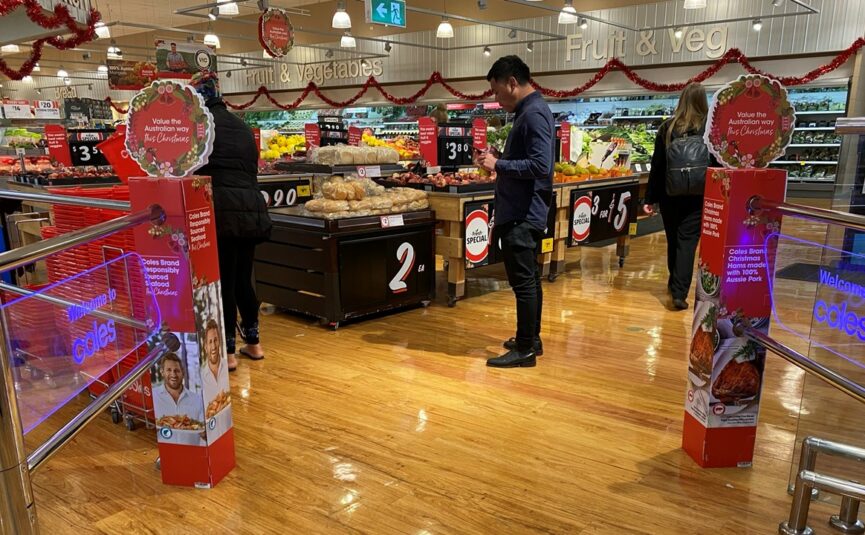 Petrol and Convenience bollard wraps
Without a doubt, Corflute is a favourite for all petrol and convenience stores and the brand manufacturers (especially FMCG brands) that do promotions in these environments. Corflute is perfectly suited due to its waterproof, durable, printable and die-cut-able credentials.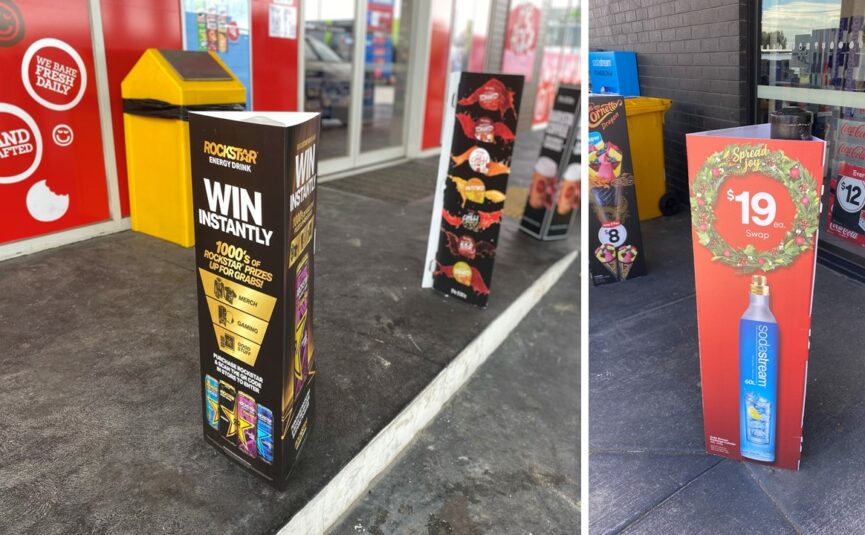 Festive High Street signage
Like with P&C retailer's, it's hard to walk down a high street and not see Corflute being used to dress up the occasion for the local community.
These examples can be promotional (used for one Christmas season), or taken down at the end of the season and used again the following year.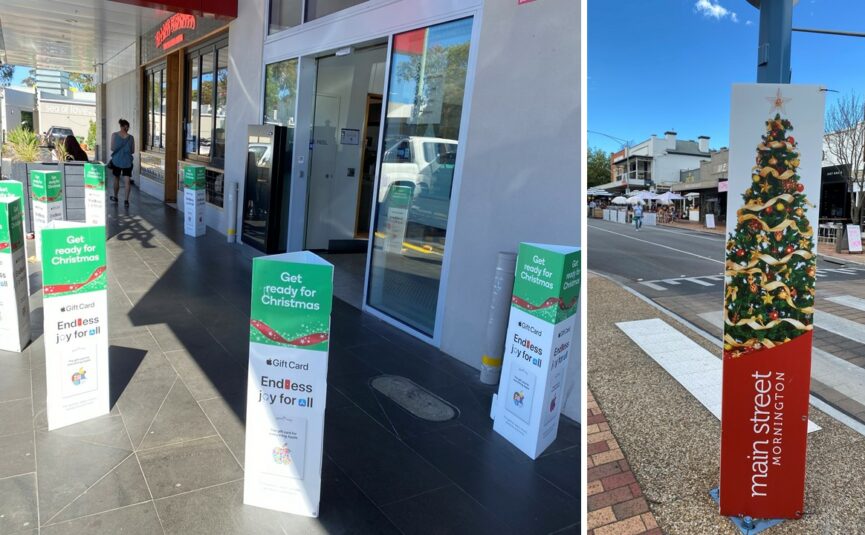 Covid queuing guidance
Many shopping centers have been utilising triangular black Corflute structures creating a Covid safe space to queue in whilst waiting to enter retail stores like this example outsides Pandora stores.
Black Corflute is commonly made entirely from waste that is brought back to Corex for recycling and post-industrial scrap (off-cuts) from Corex.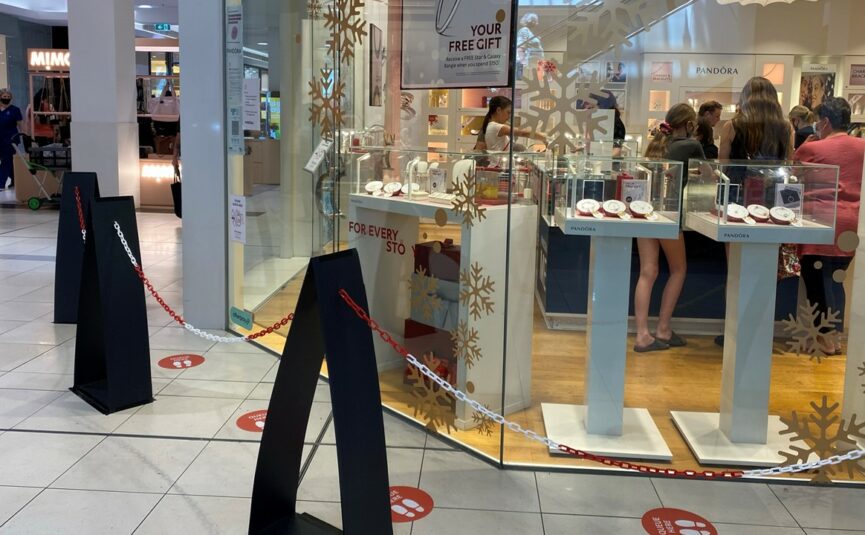 JB HiFi updatable in-store signage
Not a festive example, but while out looking for retailers using Corflute at Christmas, I noted that JB HiFi who use an abondance of temporary (paper and plastic) price and promotional signage in-store, use Corflute for semi-permanent and updatable signage with clear pockets at store entrance, and throughout the store to educate customers about fixtures and products.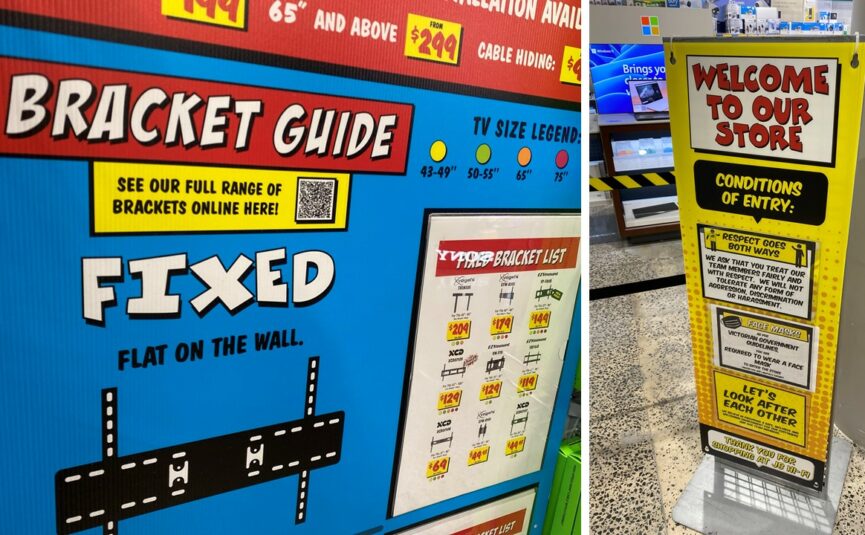 It's time to make plans for 2022!
With 2021 retail marketing promotions behind us, how can you plan your retail marketing signage and displays with sustainability and locally produced materials at top of mind?
Setting the scene: You have a promotional plan for your products that need to be marketed in the physical retail space in 2022. Now it's time to plan how you make and activate your ideas! The key is to work with local producers who focus on materials and design – those who value the circular economy.
D4S (design for sustainability) goes beyond how to make a green product and embraces how to meet consumer needs on a social, economic, and environmental level.
Sustainable design should consider the environmental benefits and impacts of the product along with its cost, function, performance, durability, availability, and safety.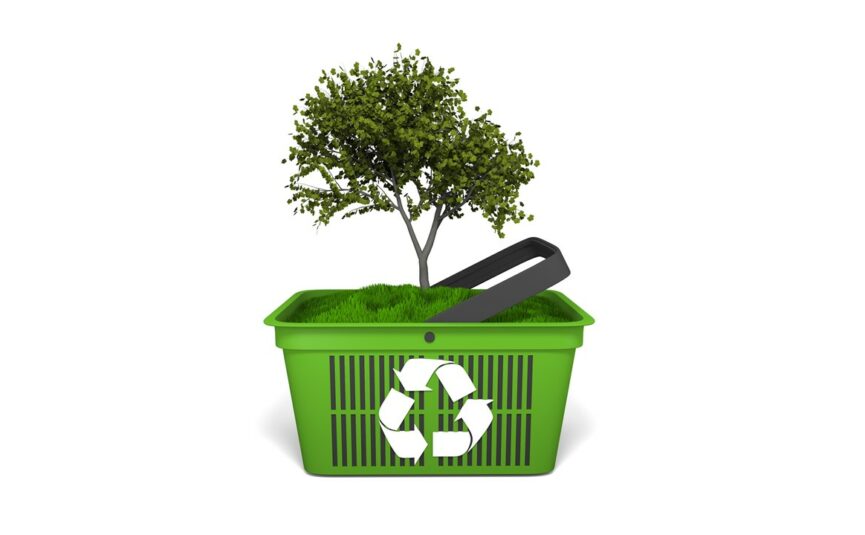 When striving for D4S for next year's seasonal retail promotions, consider these 10 steps
Use 1 material only where possible such as Australian made Corflute
Use recycled materials where possible, and ALWAYS materials that can be recycled locally
Optimise sheet yield reducing post-industrial scrap
Digitally print (fewer sheets for set-up required) using VOC-free inks
Use a 'one-stop-shop' for design and manufacturing – material, print and construction (fabrication) completed locally at one site
Extend life of display. Consider reusability and repurposing
Choose durable and minimal materials suited to the application
Optimise weight of materials and packaging. Aim for lightweight products that are shipped flat
Minimise energy consumption by utilising a tight the supply chain
Always make a plan for end-of-life disposal
In conclusion
Christmas 2021 has seen a diverse range of brand manufacturers, retailers and local councils using Corflute in their promotions. Although sustainability might not be top of mind for Christmas activations, if you find a solution that is; long-lasting, lightweight, cost effective, locally produced and 100% recyclable, then you are off to an amazing start!
Corflute trends this Christmas:
Retail Marketing – Seasonal gondola headers, free-standing marketing beacons and Covid check-in signage
Petrol and Convenience – Bollard wraps and bowser promotions
Community High Streets – Christmas themed dress-ups for trees lining the streets, electricity poles, bollard and bin wraps
Store Check-in and restriction management – Covid QR code check-in and hybrid Christmas promo headers
Covid queuing guidance – Robust free-stand black Corflute with chain links to create a line for waiting shoppers
Corflute® Range of sheet products has been formulated specifically for signage and retail display applications. Read about what we do in the Retail Signage & Display industry.
Get in touch with the creative team at Corex if you want to learn more about designing bespoke solutions for next Christmas. Contact us.
Find out more about our Corflute Recycling Program.
Sign up for industry innovations, special offers and useful information.
"(Required)" indicates required fields
Sign up to download this document
Subscribe to our mailing list to unlock exclusive content on our site