Celebrating National Recycling Week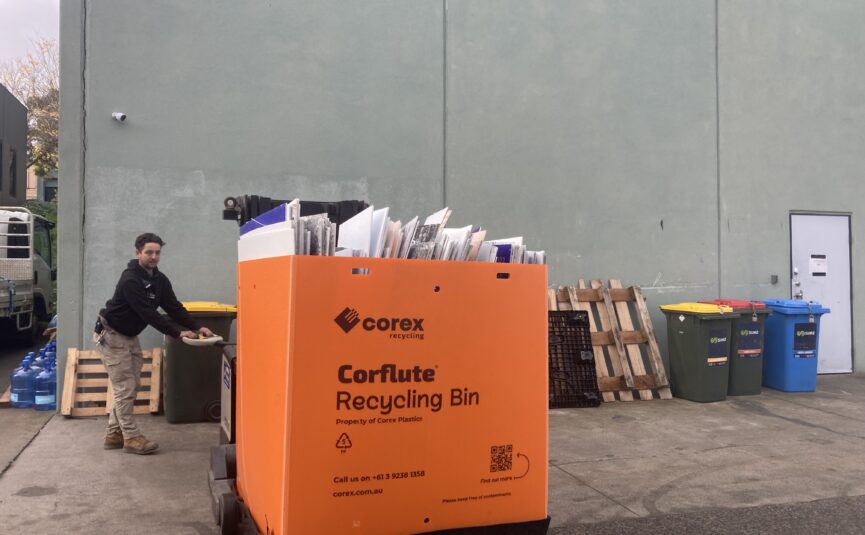 National Recycling Week 7-14 November 2022
For the last 26 years, National Recycling Week has run in the second week of November. The purpose for the week is to focus on reducing, reusing and recycling to minimise strain on finite resources.
From a Corex point of view, recycling has been a roller-coaster ride this year with fantastic highs and challenging lows.
We take great pride on our reduced footprint and have been trail-blazers in recycling and reusing plastics for over 20 years. We are the only company in Australia that offers Corflute® Recycling and at the heart of Corex Plastics is our Corflute® Recycling Program.
Unfortunately earlier in the year, we had to pause our interstate (Victoria unaffected) recycling program, with the predominant factor being the cost of transportation vastly exceeding the cost of virgin material. This has ultimately resulted in positives as we went on an exploration to create a more sustainable program. We have made progress and are working on shared hub models to congregate waste, and ways to densify the materials before collection. We are not there yet, but getting close.
Aside from the interstate Corflute® recycling challenges, we have had some wonderful stories of recycling success in 2022!
Read about 3 of this year's great recycling wins.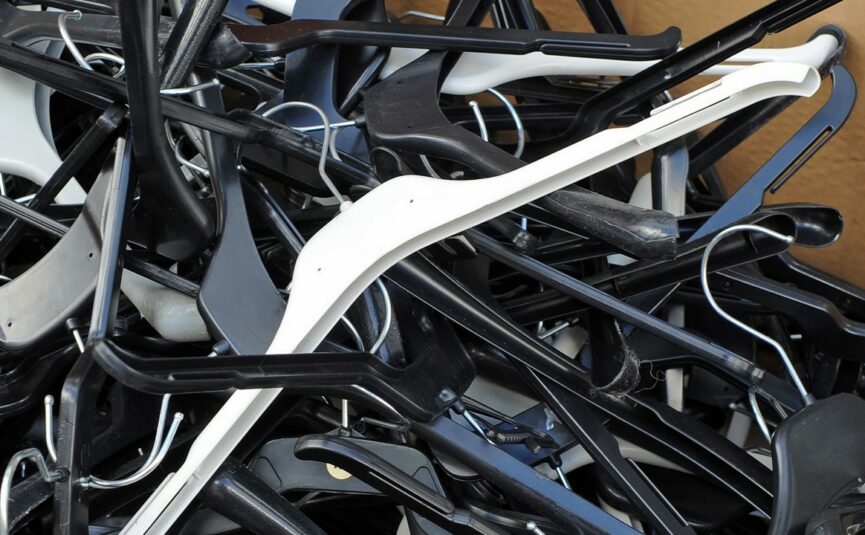 1. Sustainability Victoria Recycling Modernisation Grant
Earlier this year, Corex Recycling received one of thirteen grants awarded to local projects that will assist in transforming Victoria's plastic waste into new products.
The Sustainability Victoria Recycling Modernisation fund is being used to build or upgrade local recycling facilities, which will transform an extra 137,000 tonnes of plastic, glass, and tyre waste into innovative new products every year.
Solving the plastic waste problem
Over the last few decades, millions of unwanted plastic coat hangers and vehicle bumper bars have been exported to China for waste disposal. When the recent bans on export of waste were introduced, the team at Corex Recycling went into research and development mode to see if we could create a solution for the waste, and ultimately reprocess and reuse the plastics in a local closed-loop service.
The funding granted to Corex Recycling will be used for new equipment to process difficult-to-recycle plastics including the clothes hangers that go into Australian retailer stores and vehicle bumper bars at the end of their use. The recycled plastics will then be reprocessed on-site by Corex Australia.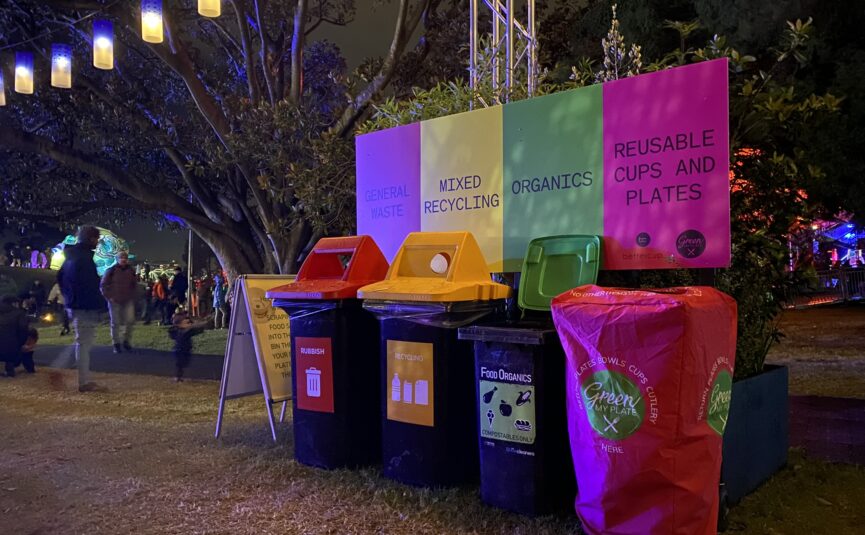 2. Rising Melbourne
Partnering to Achieve Sustainability Goals
Corex Recycling was thrilled to support Melbourne's RISING Festival in achieving their sustainability goals in June this year.
RISING's aim was to generate as little waste as possible this festival, so they were excited to find a local partner to recycle their Corflute® signs that could not be used again at next year's event.
After processing the signage returned, the repelletised polypropylene collected from RISING was equivalent to making approximately 1,100 recycled Corflute® sheets (based on a common signage size of 600 x 900 x 3mm).
Thanks so much to the team at RISING for allowing the team at Corex to work alongside you!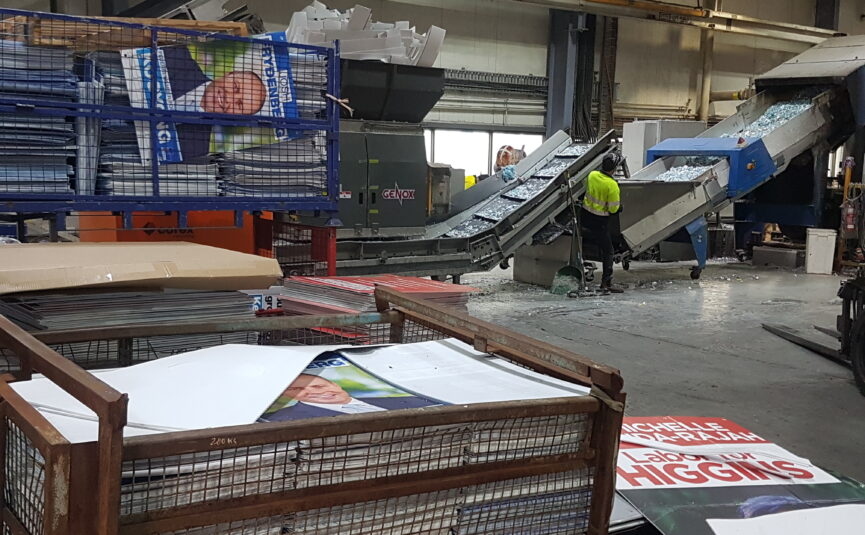 3. Corflute® Election Signage Recycling
Although it's difficult to determine how much Corflute® signage was brought back specifically for election advertising, during the past 12 months Corex Recycling has brought back around 230-250 tonnes of Corflute from printers, and retired signs from the field.
One example: Monique Ryan Campaign Signage Recycling
Before the Australian Federal Election campaign this year, the office of Independent Member for Kooyong Monique Ryan reached out to Corex Recycling to see how we might be able to reuse their Corflute® election signs post-election.
Their team worked vigilantly to recover signage and remove contaminants before returning them to us for recycling. Their recovered material represented around 2000kg of material, which we reused at Corex Plastics to make post-consumer recycled Corflute® sheet.
Using recycled polypropylene pellets in our production of Corflute® equates to an 80% reduction in carbon emissions over that of equivalent virgin(new) product.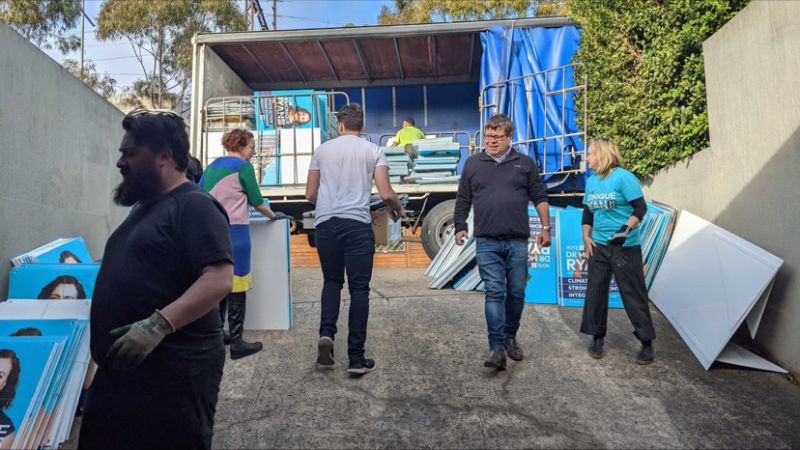 Corex & Sustainability
Corex products are designed to be reused again and again. When the product is ready to retire or if you have post-industrial waste, we can collect it, recycle it, and reuse it. Learn more about our Plastic Recycling Program.
Corex is proudly Australian. Our products are designed for the circular economy.
Sign up for industry innovations, special offers and useful information.
"(Required)" indicates required fields
Sign up to download this document
Subscribe to our mailing list to unlock exclusive content on our site