Innovating through partnerships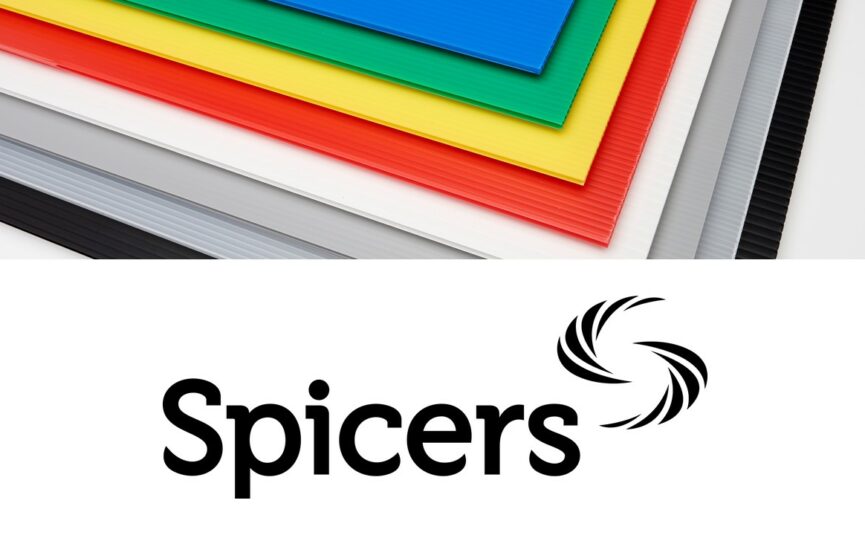 Services provided
Spicers Sign and Display partnership
Innovating through partnerships
Having intermediary partners is critical to Corex's ongoing success. It enables us to focus on making the very best materials while relying on partners for their qualified understanding of what such a diverse market wants and needs.
Spicers are a longtime and dedicated supporter of Corex, paving the way for the continual evolution of the product offering in the Australian print, display and signage industry.
Find out more about this unique partnership which has helped Corex and Spicers grow and evolve over the last 20 years.
Spicers and the Australian print and signage industry
Spicers was founded over a 100 years ago as a distribution company to the print industry. Over the last 15 years Spicers have expanded into the signage sector.
For more than two decades Spicers and Corex have prospered thanks to an exclusive partnership to meet the exacting technical needs of signage businesses. Corflute is still the number one choice for customers who are seeking the best quality, locally sourced and sustainable polypropylene twin-wall board.
"The journey has been really strong. For screen printed signage board that had excellent strength and ink adhesion, we went exclusively with Corex and the Corflute brand.  We felt that with Spicers being the largest paper distribution company in Australia, we wanted to have the best, and Corflute is the best quality. Corflute as the best was also an Australian brand."
Why Australian-made trumps imports for Spicers
Although after more than three decades the quality of overseas offerings is catching up to Corex and Corflute, the travel distance for imports still presents a challenge. Wayne Hood, Sign and Display Portfolio Manager at Spicers said,
"There is a myriad of issues with bringing product in from overseas", with four areas, which are addressed by using Corex.
A guaranteed and cost-effective supply chain. Especially in current times, delays are up to 16 weeks for supply and the freight costs have more than tripled
"The benefit of having Corex is we can get sheets made to size within 2 weeks". Glen Makary, National Sales Manager Sign & Display.
Accountability of suppliers and guarantee of technical support: As Spicers is the exclusive distributor for Corflute for the signage and display industry, it's critical that they can rely on Corex. That's important because the Spicers' name and reputation for delivering quality is on the line. Their customers rely on them to deliver an outstanding end result and that's only possible when Spicers know Corex has their back.
"From our perspective as Spicers, as the distributor, we get assistance. If there's an issue, Corex assist and fix it." Wayne Hood said.
"Another important aspect is support when things do go wrong. That's the ONE promise we can say to all our customers, if there's an issue, Corex are local, we have access to them, we have access to the technical team immediately. We can fix the problem"
Customisation and quantity supply: The ability to supply custom-sizing and smaller quantities through Corex gives Spicers a significant competitive advantage. Wayne Hood elaborates,
"A vast, vast majority of our customers want job specific sizes, so Spicers gets the work right, because we supply those sizes, we can get them [through Corex]"
"Having a local manufacturer also gives our customers a great selection of sizing. For example, when you bring an imported sheet in, you're always going to bring in the most saleable size, but often customers don't need that size as it leads to waste, so by having a local supply we were able to facilitate their requirements much better."
Glen Makary, National Sales Manager Sign & Display explains further,
"Customers support Spicers because we hold excellent stock levels of 3.0mm/3.3mm/5.0mm in a range of sizes in every state." 
"Customers also take advantage of the local manufacturing and excellent lead times for "custom sizes" for high volume runs. The likes of Coles specify Corflute® for POS such as Standees throughout their stores and sometimes due to the odd finished size a custom size is required."  
Customers are increasingly demanding Australian-made: Spicers are reporting a greater focus than ever before on sourcing Australian-made product. Wayne Hood explains further,
"The other benefit that Corex have is, we're seeing a push towards Australian made from certain customers. They've made a conscious decision to support Australian, or want to be able to close the loop with recycling, which they can do with Corex"
Spicers talks about quality
The quality of Corflute rigid substrates (Multicor and Supercor) for sign and display is second to none.
Not only are there obvious advantages to an Australian-made product, Corflute's performance on three key fronts makes it the preferred choice for customers who need the best.
Durability: while some applications are short lived, like real estate signage or election slogans, when it comes to solutions that need to stand the test of time, the ability to keep looking good day after day is critical.
"For example, when we talk about signs going up around a footy ground or a cricket ground, like a sponsor board has to go up for a year at least. In some states in very harsh weather conditions durability becomes important." Wayne Hood
Quality of finishing: The quality of a board also comes down to the ability or ease of the finishing elements such as eyeleting, cutting and strength. Corflute boards have a consistently high quality which increases their reliability.
Print quality and consistency: Whether you've got a long-term outside application or a temporary piece of retail signage, no customer is ever willing to compromise on print quality.
"So, there's a durability quality, and then there's a print quality, right? Print quality is ALWAYS important. With our customers, people who are graphic experts and want their brand and message to be seen in the absolute best light, we have to satisfy very high quality demands"
"Consistency of the substrate is key. With Corex, their white is their white is their white, year on year on year on year on.  When you're bringing something from overseas, we've seen some variations and that doesn't work so well for our customers"
"Unfortunately [with other companies and imports] the quality of print generally has not been consistent over the years. Spicers have very demanding customers who know what they want and know what quality is. Corex can deliver the quality." Wayne Hood.
Sustainability is a huge driver and only getting bigger. Corex Recycling delivers.
Customers are increasingly demanding 'sustainable' solutions. Often driven by specific business requirements and stated goals, there's a strengthening recognition of the importance of 'closing the loop' for materials that might otherwise only have a short 'single use' lifespan.
Many European companies for example have already moved substantially towards this requirement and it looks likely that Australia will follow suit. If a product is not able to be used within a closed loop system, such as being compostable, biodegradable or recycled, then it doesn't get used.
Corex's 100% recyclability is a key attribute, and systems that Corex has in place, such as recycling bags at election campaign offices to collect recyclable materials are a big drawcard for Spicers' customers.
"Having a requirement to be closed loop; to be compostable, biodegradable or recyclable is starting to get traction in Australia."
Corflute is 100% recyclable. When products are ready to retire or if customers have scrap material, Corex Recycling will take it back, recycle and reuse it. Wayne Hood explains what this means to Spicers and their print and display customers.
 "For the big users [of Corflute sheet], that is very attractive, because sustainability is something that people are talking about. We can close the loop with Corex. So, if that's what customers want, they want to close the loop, they want to be able to offer something that is sustainable that is not a single use product, and that can be recycled after use, then Corex Recycling can deliver that. And that's key."
As well as Corflute which is 100% recyclable, Corex also manufactures 100% Recycled Corflute. As the name suggests, this sheet is made from recycled post-industrial waste. This product usually has an off-white look with a subtle speckle due to its recycled content. All other mechanical and printing attributes remain the same as Corflute. Wayne Hood talks about 100% Recycled Corflute.
"We are launching our Spicers sustainability pack early next year. And certainly the 100% recycled polypropylene that Corex supply to us is going to feature largely in that catalogue. It is a key product for us in that catalogue, it is very important"
Glen Makary explains how Corex's recycling service works and what that means to their own customer relationships.
 "Corex supply us with Corflute recycling bins called "Corpaks". When we offer our customers the Corpak recycling service as an option to recycle their waste, it helps us to create an important partnership with them. This process closes the loop for the customer and gives them a green story for their clients."
Thank you to the team at Spicers for their insights regarding Corflute in the Sign and Display market. Reach out to Spicers to receive a copy of the Spicers Sustainability Pack or to talk with them about your requirements for Corflute. www.spicers.com.au
Sign up for industry innovations, special offers and useful information.
"(Required)" indicates required fields
Sign up to download this document
Subscribe to our mailing list to unlock exclusive content on our site