Corex Launches Carbon Neutral Ecorange®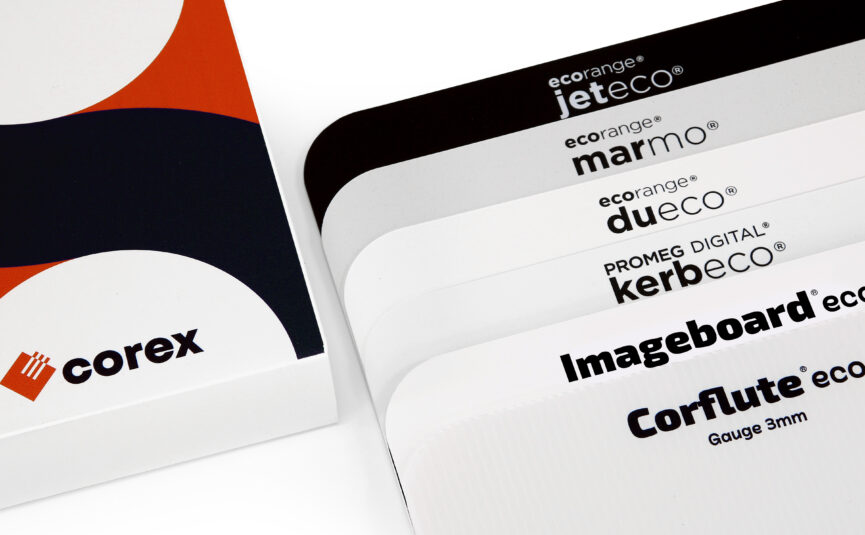 Sustainability is not a buzz word at Corex, it's in our DNA.
Corex is the exclusive manufacturer of Corflute®, a twin-wall profile polypropylene sheet used broadly across the retail display, packaging, material handling and building industries. But regardless of industry and application, Corflute® was not created to be a single use plastic. It is designed to be reused again and again, and at the end of your products life we encourage people to bring it back to Corex Recycling for reuse in new products.
It is in our DNA to reuse and recycle all materials that we produce and we only manufacture materials that can be recycled by Corex Recycling.
Adding to our sustainability journey, in 2022, Corex and Megara joined forces with the aim of delivering customers with an Australian plastic manufacturing and recycling one-stop-shop.
Megara were true sustainability champions in Australia creating the world's first carbon neutral plastic sheet, PROMEG® ecorange . The ecorange® incorporates 50% to 100% recycled content in a perfectly curated suite of polypropylene sheets designed for POS display, consumer packaging and stationery products.
Bringing Megara together with Corex Plastics and Corex Recycling opened even greater opportunities to further innovate and broaden our sustainable material range with unique new products and services all located on one site.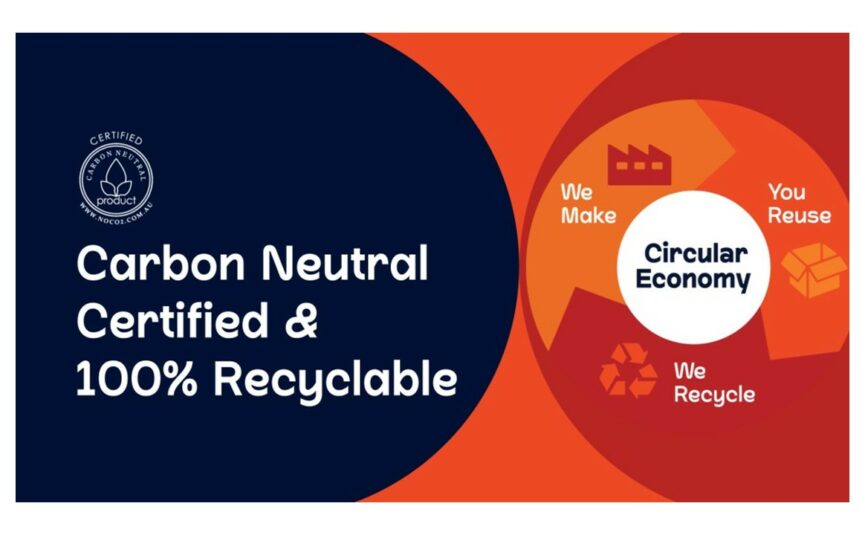 Introducing our new Corex ecorange®
What is the Corflute and Promeg ecorange®?
The Corflute and Promeg ecorange® is our 100% carbon neutral plastic sheet offering. The ecorange® includes products made from recycled polypropylene (PP) and polyethylene (PE) using post-consumer and post-industrial waste.
Australian made Corflute and Promeg ecorange® combines design with durability, achieving a premium graphic grade sheet solution. The 100% recyclable ecorange® vastly extends the life of your products compared to single use materials like paper, and products which cannot be readily recycled like foam PVC.
After your Corflute and Promeg ecorange® products have reached the end of their use, return them to Corex Recycling for reuse within Corex and Megara products. The ecorange® can be remade infinitely into new products.
When you return your waste materials back to us, your business becomes our "Corflute® and PROMEG® Recycling Program Partner" and is eligible to receive brand assets to use in your company's compliance register, tenders, website, presentations, as well as an annual certificate of your returned quantity and reuse channels within our circular economy.
Read on to meet the ecorange®!
---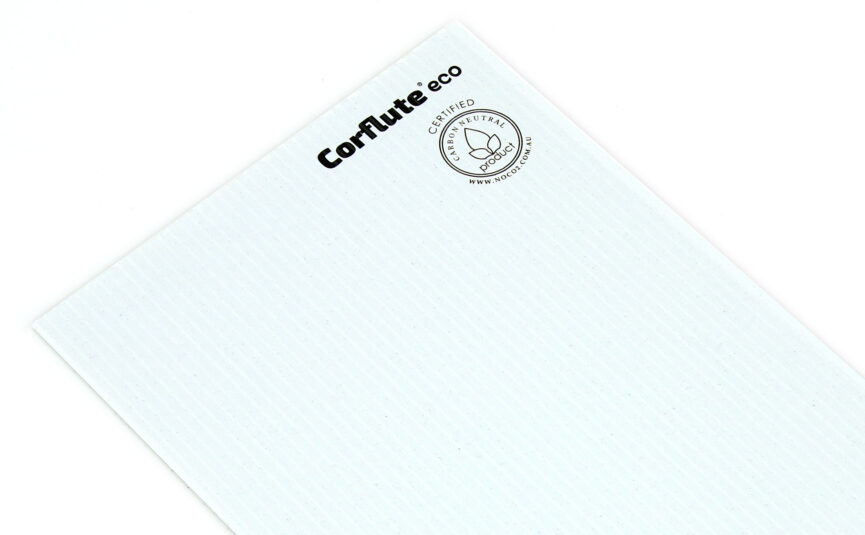 Corflute® eco
Corflute® eco
Corflute®eco as the name suggests, is made from a combination of 50% post-consumer and industrial waste. Its composition has been carefully created to achieve the ideal equilibrium between "Eco" considerations and consistent performance, meeting the technical requirements and sustainability goals of Corflute® customers.
Corflute® eco has an inherently beautiful recycled look and exact tone can vary due to recycled content. It generally has an off-white appearance with a subtle speckle. All other mechanical and printing attributes remain the same as Corflute®.
---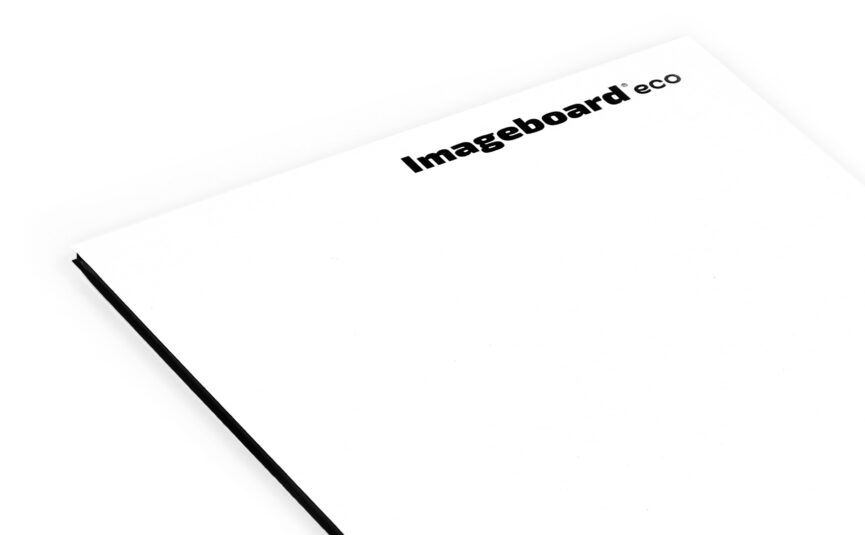 Imageboard® eco
NEW Imageboard® eco is one of the innovative products made possible by bringing Corex and Megara together.
NEW Imageboard® eco is made using Corex's black Corflute® sandwiched between two layers of Megara's premium digital print grade PROMEG® polypropylene. The result is a lightweight sheet with a matte printing surface. No ribs, no PVC, 50% recycled content, 100% recyclable and carbon neutral certified!
Using a recycled black core not only makes this product more environmentally friendly, but it also gives the sheet a black edge creating a premium look for retail signage applications in both indoor and outdoor environments.
The super smooth digital PROMEG® surface of Imageboard® provides an ideal substrate for printing, with outstanding ink adhesion resulting in high image quality.
---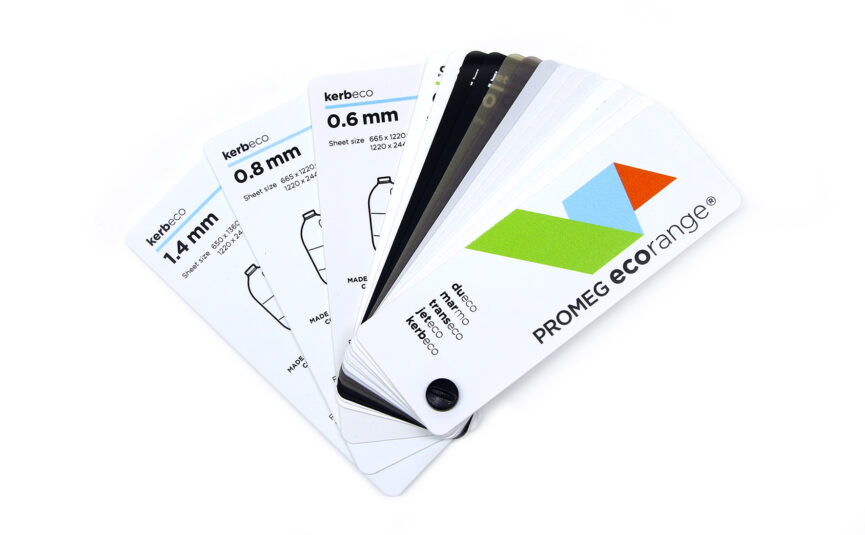 Kerbeco®
Kerbeco® is made from 50% recycled waste that has been collected from kerbside recycling like milk bottles, reducing landfill.
Kerbeco® is an extruded PP and HDPE sheet with an off-white colour and a high-end cosmetic finish. Kerbeco® blends premium mechanical standards with environmental integrity. It is surface treated to create excellent ink adhesion for screen and offset printing.
For companies that specialise in large format digital printing, we have recently added Digital Kerbeco® to our suite. Printers have made this variant their material of choice due to its superior digital printing and production capabilities, ink adhesion and speed to cure.
---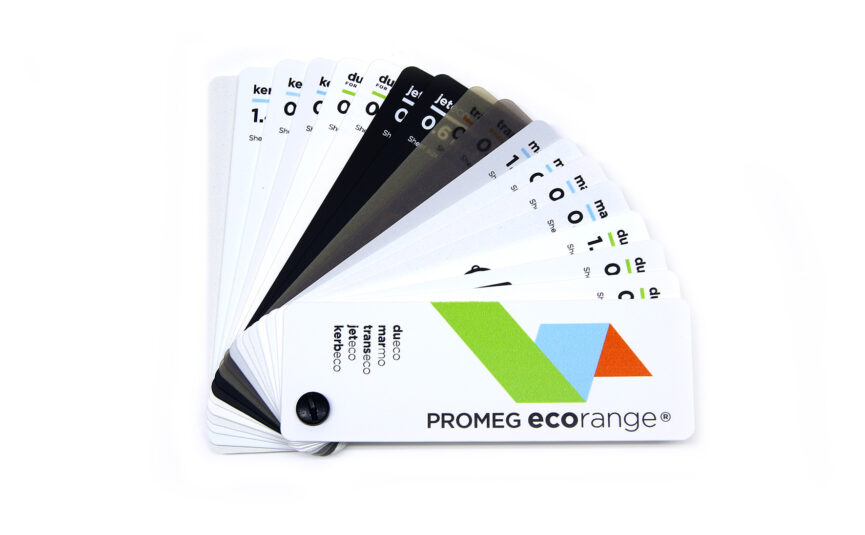 PROMEG® ecorange
PROMEG® ecorange is where it all first started! Its recycled content ranges from 50% for Dueco® to 100% for Marmo®, and Jeteco®.  PROMEG® ecorange is non-toxic and highly energy efficient during its manufacture.
ecorange® sheet has a smooth tactile feel. It is super durable and prints beautifully — the sheet is surface treated and offers excellent ink adhesion for screen, offset and digital printing.
PROMEG® ecorange includes:
Marmo: off-white / grey-ish with a marble-like speckle
Dueco: 2-sided duplex. Brilliant white A side; Marmo B side
Jeteco: dense black
The unique recycled tones of Marmo® offers creative opportunities when durability and a recycled look is desirable. And with 2 sided Dueco® you can create items that are not always possible with a fully recycled sheet.
PROMEG® ecorange provides complete environmental responsibility for your next project.
---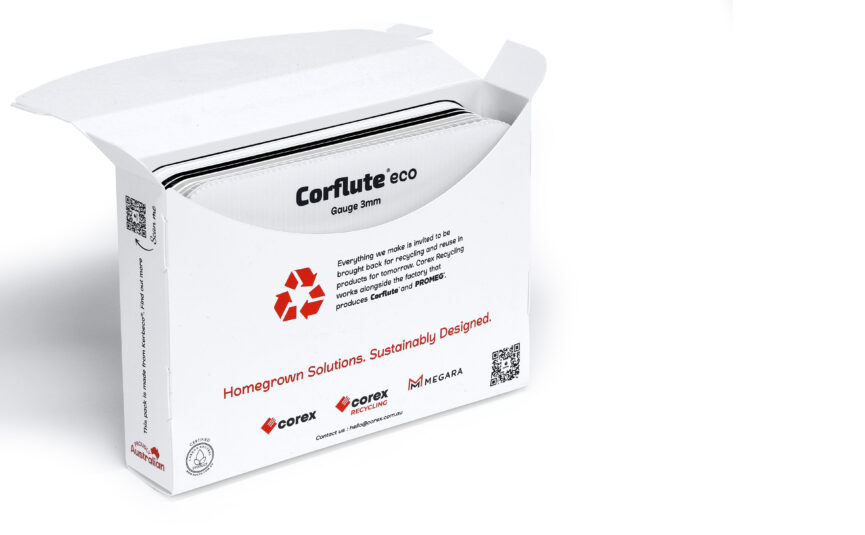 Order Carbon Neutral Sample Kit!
Homegrown Solutions. Sustainably Designed.
Light weight, energy efficient Corflute® and PROMEG® ecorange sheets are designed with sustainability at top of mind. No additional materials or glues are required to create the most beautiful and thoughtfully designed products. All ecorange® sheets have printable surfaces meaning you don't need to laminate them with PVC or other contaminants. Our ecorange® is certified Carbon Neutral.
If you would like more information about ecorange® or to see if you are eligible to receive a Carbon Neutral Sample Pack get in contact with your account manager or email hello@corex.com.au or hello@megara.com.au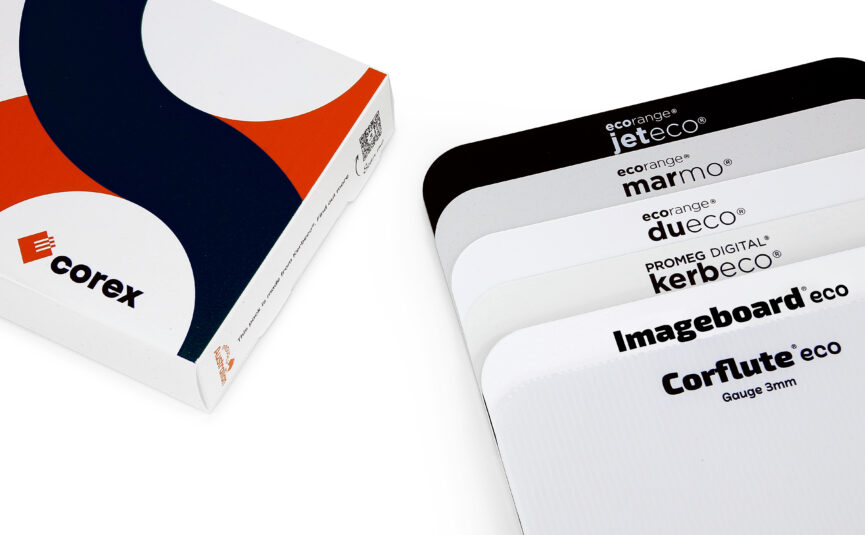 About Corex
Corex is a unique Australian closed loop business with polypropylene sheet extrusion, fabrication, and recycling all on one site.
We are the exclusive manufacturer of Corflute®, a proprietary twin wall profile polypropylene sheet used broadly across the retail display, packaging, material handling, horticulture and building industries. In addition to Corflute®, we extrude solid and cuspated sheet and rolls.
Corex Plastics unique properties and recyclability allow for infinite function with excellent endurance. When applied in our circular economy model, the use of polymer reduces strain on natural resources and creates greater supply chain efficiency.
Everything Corex makes is invited to be brought back for recycling and reuse again in products for tomorrow. Read more about Corex and Sustainability.
Get in touch with Corex hello@corex.com.au
About Megara
Megara is widely regarded as Australia's leading graphic-grade polypropylene sheet manufacturer. Megara also designs and produces Point-of-Sale display, consumer packaging and customised stationery products with sustainability at top of mind.
Like Corex, Megara make their own polypropylene sheet called PROMEG® with an unmatchable flat and smooth finish.
Megara recycles all in‑house waste to make 100% carbon neutral PROMEG® ecorange®. The ecorange also includes Kerbeco® which is made using 50% recycled post-consumer waste.
Get in touch with Megara hello@megara.com.au
Contact us
Sign up for industry innovations, special offers and useful information.
"(Required)" indicates required fields
Sign up to download this document
Subscribe to our mailing list to unlock exclusive content on our site